Kish Water Park

Located on the southern coast overlooking the Persian Gulf, Kish Water Park is the largest, and first themed water park in Iran. Centered on the story, "The Mystery of Sun Castle", it is the first outdoor waterpark in Iran and features 14 rides and attractions. Designed, engineered and manufactured by WhiteWater of Canada, one of the most prestigious designers of water parks, including 9 of the world's top 10 waterparks,
Kish Island is on the northern edge of the Persian Gulf, 18 km south of mainland Iran. Its beautiful coral beaches were chosen by The New York Times as one of the World's Most Beautiful Beaches in 2010, and its year-round warm weather provides the perfect backdrop for the outdoor Kish Water Park.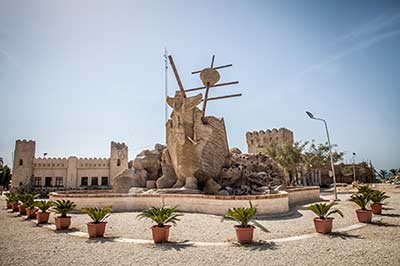 "Kish Water Park is starting a new era in the exciting world of waterslides and water play areas. We will feature the newest rides in Iran, be the first with North American standard equipment, and introduce new rides to the Middle East region. Two of the rides at Kish Water Park are the first of their kind in Iran - the 24 m, "Freefall" waterslide with a heart-stopping straight drop reaching speeds of 17 m/second, and a two-person surf simulator pool that can be used to learn how to surf or wakeboard. Our tallest tower also features the "AquaLoop", the world's only looping waterslide, which will become a major draw for tourists from all over the region.
Abadis features a special slide area for children, a cave with its very own waterfall, and a pirate themed Aqua Play Zone. The large wave pool and the "Lazy River" relaxing tube ride around the park ensure there are activities for every activity level. Kish Water Park will include a comprehensive selection of retail, and food and beverage options. The rooftop coffee shop overlooking the Persian Gulf, and the café with seating for 1000 will be popular destinations, offering a wide selection of food, snacks and beverages.
Read More...